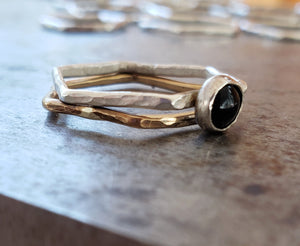 core values
Service (to the customer & the community)
Authenticity (genuine and transparent)
Slow Fashion (encompasses respect for environment, people and craftsmanship)
Sustainability & craftsmanship
I strive to educate and adorn people who want exclusive craftsmanship without sacrificing the planet and its people. - Gina McCool
I have a responsibility to create unique, beautiful jewelry made to last
so you are proud to wear it or to give it as a gift. If you purchase from me, whether for yourself or someone else, I want the unboxing experience to be as fun and special as the wearing of the jewelry.

Included in that responsibility is being respectful of the environment.
Jewelry: I give a lot of thought to the materials and techniques I use to bring my designs to life. I use recycled metal, try to order within the U.S. to reduce emissions and packaging, and the list goes on! I've never been one to chase trends and that's helpful in my goal to make good environmental choices.

Packaging: It's important to me that I package my creations in a beautiful way while keeping the environment in mind.
I consider the environmental impact of everything from boxes, displays, mailing and more.
I'm always looking for ways to improve my sourcing of materials and minimize my businesses footprint on the environment.
Thank you for being supportive of this small but mighty business.